Experienced aerialists and aerial educators...
What if you could train and coach with more intention, more innovation, & more creative fulfillment?
THIS SHIT IS HARD and we live in a culture of instant gratification where we're only one "press send" away from a dopamine hit of likes.
Lack of perceived progress, lack of mentorship and support, and lack of motivation through the tough times makes it hard to know where to focus.
There is another way.
THE PARISH
A Community of Aerial Practice

for bold baddies
Join Now - $49
YOU DON'T HAVE TO FEEL STUCK IN YOUR AERIAL PRACTICE.
Is existential dread cutting into your airtime?
☑️ Are you spending all of your energy coming up with combos for your students but have nothing left for YOU?
☑️

Are you frustrated that it seems like you have been working on the same five skills for AGES and to what end?
☑️

Do you enjoy the classes in your local area, but feel like something is missing for you to be able to get things to work in YOUR body?
☑️

Do you know that you need to do more work on the ground, but you are not sure what to do not just to keep your body healthy but also to move the way you want to move?
☑️

Do you find yourself wondering how to sustain this practice when you have less time, when your priorities change, and as you age?
If you're anything like me, you became obsessed with aerial because you
LOVED

it.
It is all that you wanted to do, and you were downright
ANNOYED

by anything that kept you from it.
You felt chosen by this craft. You felt like you
BELONGED.
But like anything you love, aerial takes work. Aerial takes

PRACTICE.
Practice is not about a new trick or a new combo.
PRACTICE IS HOW YOU LEARN WHAT YOU ALREADY KNOW.
WHAT YOU'LL LEARN IN THE PARISH.
This is not your typical aerial membership.
If you join to get all of the answers on how get a specific skill, you will probably ghost when you have had your fill. You will gorge yourself on aerial tutorials and leave with a tummy ache.
So while The Parish contains a wide array of tutorials and classes in most aerial disciplines, in mobility, and in handstands, they serve a purpose beyond the tricks. They are a context for your creative development.
In The Parish, you will learn to explore the contours of aerial movement in a way that gives you the sensitivity and the data to CREATE.
Through a series of monthly rituals within The Parish, you will learn to:
cultivate an awareness of how your body prefers to move
identify what is holding you back from your movement goals
select from the endless possibilities of mobility, strength, or technical drill to get you from here to there
integrate new movement skills into your creative toolkit
embrace new ways of doing things instead of assuming different is wrong
You see, practice requires staying attuned. Practicing awareness allows you to be continually surprised when something feels different than the way you expected it to. In The Parish, we are trying to evolve the way we perceive our bodies and our apparatuses to harness the delight of discovery.
STOP. ASK YOURSELF.
What did you find beautiful today that you did not even notice yesterday?

How might this "noticing" transform your training?
HOW THIS WORKS.
Each month in The Parish, you will be guided through a handpicked experiment--in 3 stages--designed to expand your awareness of creative choice.
If this sounds a lot like mindfulness, you would not be wrong. But this is not all woo. You will get a deep dive into a movement technique each month and then a curated collection of tutorials across apparatuses as well as live and recorded classes related to that technical concept for you to explore. Then you will be asked to create from a place of new awareness.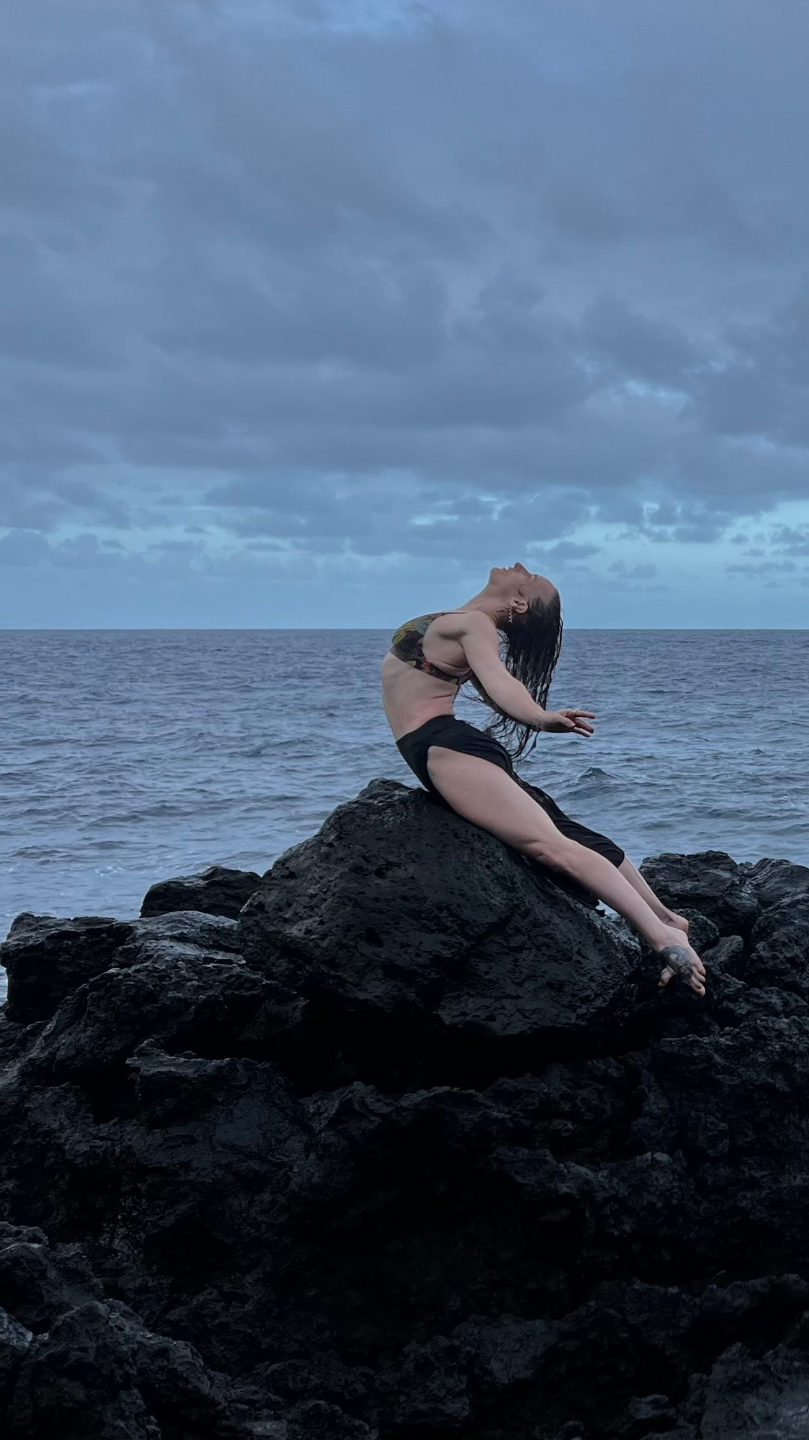 STAGE 1: INCEPTION
the forming or devising of an idea and its infiltration into subconscious mind
"Awareness needs constant refreshing."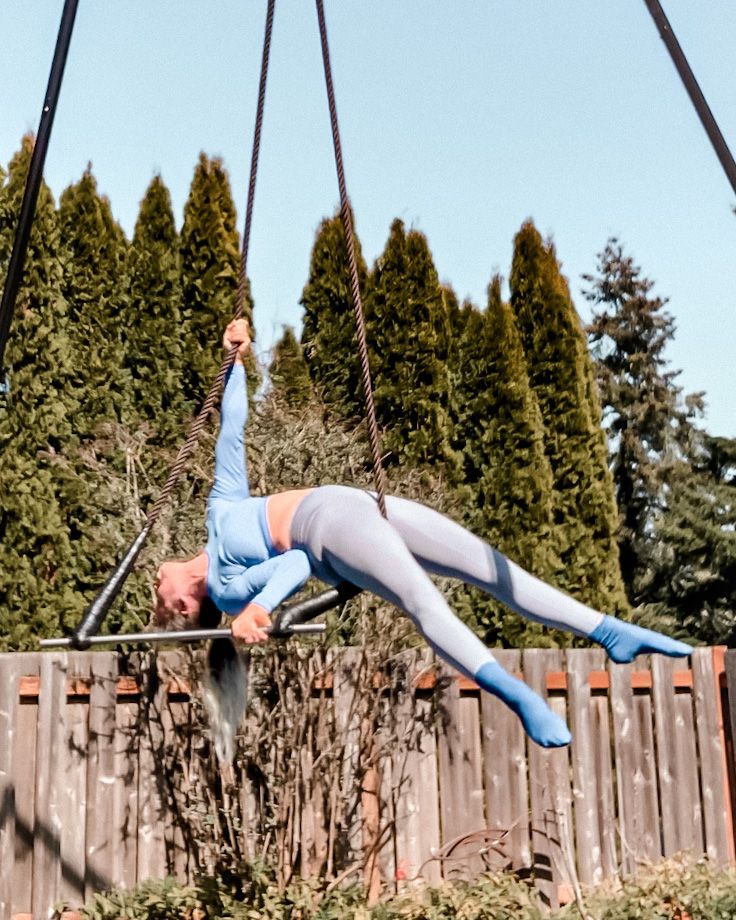 STAGE 2: DIVINATION
a method of experimentation to organize disjointed ideas to provide unique insights
"Sometimes failure is the thing you need to know to get you where you want to go."
STAGE 3: CREATION
the wrangling of an idea into a being in a moment in time
"The only way to catch more fish is to keep going fishing."
HI, I'M JESSICA.
I'm an aerial coach and mentor with over a decade in the circus industry. I did not receive the blessings of the aerial illuminati. I did not genuflect.
I was always a creative mover, even if it was just climbing trees in the backyard. When my parallel bar routines did not catch fire on the playground, I moved on to tennis and later dance. I was never particularly gifted in either. In tennis, I was more interested in perfecting my serve than in winning. In dance, I would absorb as much choreography as I could and then drill it for hours in my bedroom to barely keep up. In college, I'd drive two hours to the mountain to ski the same run all day long, watching the conditions change underneath me.
When I found aerial silks and dance trapeze in my early thirties, it felt like coming home. The curiosity that turned me onto tennis, dance, and skiing is the same curiosity that drew me to circus. So I traveled far and wide to seek out teachers. I investigated techniques outside of aerial that unlocked doors to so many skills. I read. I studied. I read some more. I took every performance opportunity that came my way. It wasn't many, so I created my own opportunities. I created companies that eventually got residencies and acclaim, but I went bankrupt self-financing them. So I started over.
I founded Circus Mobility to cultivate virtual feminist aerial community and practice at a time when I could not find the technical and creative mentorship that I craved inside of my local studios. I am honored to be able to share the wisdom of the many great women who inform my personal movement practice.
""It has been an honor and privilege to work with you. I know I sound like a broken record, but I'm just so grateful. . . . It's never just about one thing, this is a whole ass perspective shift experience."
Brit Crumpton
"I love the brave feminist space that . . . Circus Mobility is and represents. I also love that Jessica makes herself so available for direct communication. I find dealing directly with the coach behind the program is so important. I feel cared for as an individual rather than part of a business machine!"
Jess Allen
PERHAPS YOU ARE THINKING.
"I'm not an artist. I just do aerial."
"I don't perform. Why do I need a creative practice?"
"I'm just not ready for this yet. I don't have enough aerial skills."
This is not about how good your "toes to bar" is, although that might just improve.
It is about noticing things like:
where you lift the leg from and how subtle changes in your approach shift the rhythm of your inversion
how that shift ripples through your momentum work
how when you found opposition in one drill you started to feel it everywhere
that you've begun standing a little taller outside of your practice
what you already knew but somehow forgot
Who wants to be a stranger inside their own body?
Do I need access to an apparatus?
I am a former Parishioner. How has The Parish changed?
What is The Parish exactly? What can I compare it to?
When are the live sessions?
What if I cannot make the live sessions?
Who coaches in The Parish?
What is Circus Mobility's mission?