What you do outside the studio is what makes your practice YOURS!
Bridge the gap between aerial skills and aerial artistry in...
THE PARISH
A Community of Aerial Practice

for bold baddies who want to put the ART back in aerial
JOIN NOW for just $49/mo
Practice Is Precious, Not Perfect.
I remember my first performance so clearly. It was small dark studio space. I had choreographed a group aerial silks piece for my intermediate class to Cosmic Love by Florence and the Machine. (Yes, there were stars on our costumes.)
I had danced in high school, but it had been more than a decade since I attempted to create a short phrase much less a full performance and certainly not in the AIR?! 😳
Besides a degree of delusion, how was I able to take that on? How was I able to create something that wasn't perfect, but that I was proud of?
I had made space in my life for PRACTICE.
It's what ART requires.
Let me guess...
You've Hit A Plateau.
Maybe in class, you are learning cool tricks that keep you coming back for more, but you aren't sure why things work when they do (and sometimes they just don't for your body).
Maybe you keep scrolling Insta wondering "why don't I look like THAT B!t@h?" and nitpicking all of the things that annoy you about the way you move.
Maybe you feel like have a ton of skills floating around your brain, but you can't string them together, especially when you freestyle.
We live in a culture of instant gratification where we're only one "press send" away from a dopamine hit of likes. But becoming a slave to the algorithm will not get you unstuck. It will not help you level up.
Do you know what will finally open your creative floodgates? Deliberate practice.
Doing the same things over and over but slightly different. Doing them in combinations. Doing them on different appratuses. Doing them on different SIDES. (The horror! 🧟‍♀️)
Creating more opportunities to try, to fail, to learn, and to grow.
And you don't have to go it alone... You have The Parish.
If you're anything like me, you became obsessed with aerial because you
LOVED
 it.
It is all that you wanted to do, and you were downright
ANNOYED
by anything that kept you from it.
You felt chosen by this craft. You felt like you
BELONGED.
But like anything you love, aerial takes work. Becoming an aerial 

ARTIST

takes practice.
Not copying combos or skill collecting. It is about bringing

YOU

 into what you love.
PRACTICE IS HOW YOU LEARN WHAT YOU ALREADY KNOW.
Waiting for Inspiration To Strike Is Like...
...waiting for Godot. (Yep, I'm that B who put Beckett on a sales page.)
I created The Parish because I believe that foundational technique is the tinder awaiting its creative spark. And The Parish can help provide BOTH.
Have you ever lied (laid? layed? oh fuck...) awake in bed at night imagining the SICKEST sequence only to discover in the studio the next day that what you dreamt up is physically impossible? Like, your arm doesn't actually go backwards and gravity is real? 😆
You can have all of the ideas in the world, but if you don't understand how the fundamentals work, especially in YOUR body, then you are going to struggle to make your ideas come to life.
That is why The Parish is not your average aerial membership.
If you join The Parish to binge on aerial skill tutorials (which you could, there are a ton), you will probably ghost me when you have had your fill and leave with a stomach ache.
So while The Parish contains a lot of resources that you can do at home and on your own time (score!), the tutorials and classes serve a bigger purpose. 
They support your desire to:
move effortlessly and fluidly
say what you want to say in the air
gain more confidence to perform, teach, or share this art
For a very low price of $49 per month, The Parish is FIRE 🔥.
STOP. ASK YOURSELF.
What did you find beautiful today that you did not even notice yesterday?

How did this "noticing" change your day?
Now imagine each time you logged onto The Parish you noticed something new about your movement.
How would new awareness transform your practice?
That's what you'll learn through The Parish.
HOW  THIS WORKS.
Through a series of monthly movement rituals within The Parish, you will learn to:
cultivate an awareness of how your body prefers to move
identify what is holding you back from your movement goals
select from the endless possibilities of mobility, strength, or technical drill to get you from here to there
integrate new movement skills into your creative toolkit 
embrace new ways of doing things instead of assuming different is wrong
You see, practice requires staying attuned. Practicing awareness allows you to be continually surprised when something feels different than the way you expected it to. In The Parish, we are trying to evolve the way we perceive our bodies and our apparatuses to harness the delight of discovery. 
Each month in The Parish, you will be guided through a handpicked experiment in 3 stages designed to expand your awareness of creative choice.
If this sounds a lot like mindfulness, you would not be wrong. But this is not all woo. (I have negative woos.) You will get a deep dive into a movement technique each month and then a curated collection of tutorials across apparatuses as well as live and recorded classes related to that technical concept for you to explore. Then you will be asked to create from a place of this new awareness.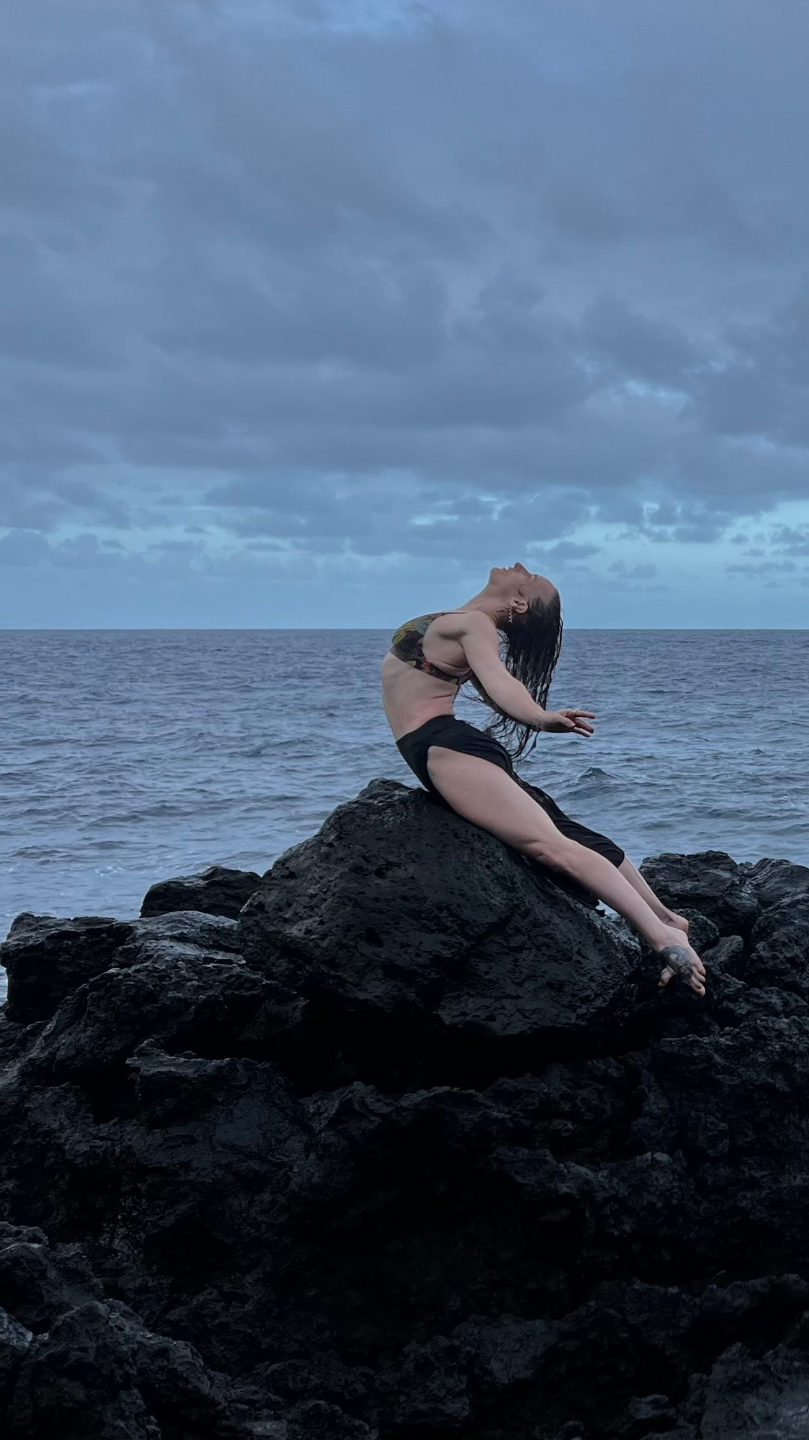 STAGE 1: INCEPTION
the forming or devising of an idea and its infiltration into subconscious mind
"Awareness needs constant refreshing."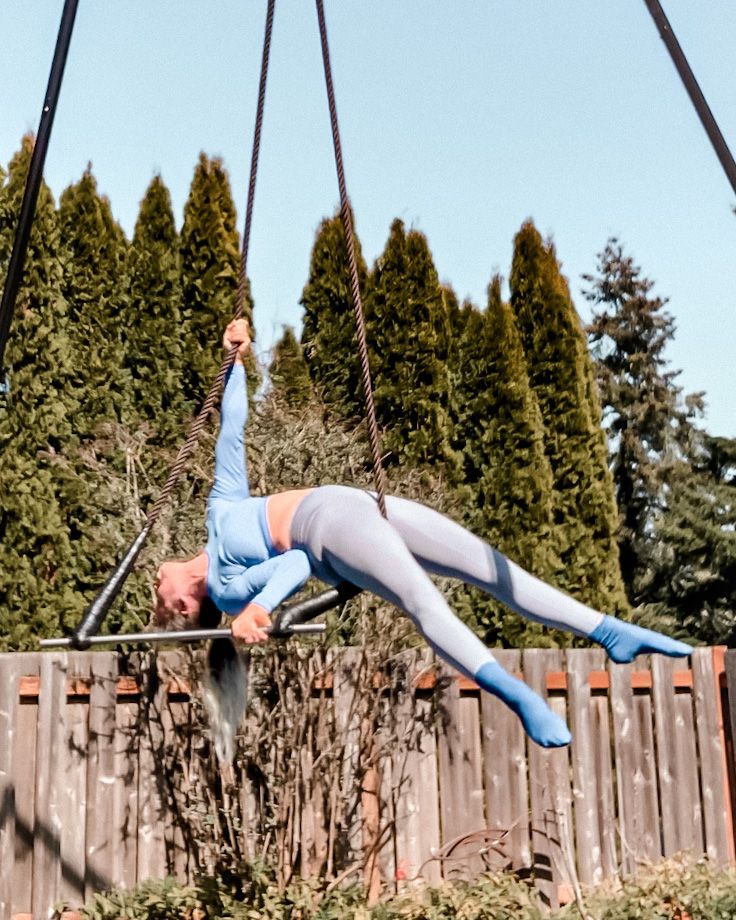 STAGE 2: DIVINATION
a method of experimentation to organize disjointed ideas to provide unique insights
"Sometimes failure is the thing you need to know to get you where you want to go."
STAGE 3: CREATION
the wrangling of an idea into a being in a moment in time
"The only way to catch more fish is to keep going fishing."
HI, I'M JESSICA.
I'm an aerial coach and mentor with almost two decades in this industry. I did not take any traditional route. No professional programs. No lifelong commitment to the pursuit of perfect toe point. I did not receive the blessings of the aerial illuminati. I did not genuflect when my name was called.
What I was, always, was a creative mover, even if it was just climbing trees in my backyard. When my parallel bar routines did not get me discovered on the playground, I moved on to tennis and then dance and later skiing. I was never particularly gifted in any of them. In tennis, I was more interested in perfecting my serve than in winning. In dance, I would absorb as much choreography as I could and then drill it for hours in my bedroom to barely, I mean barely, keep up. In college, I'd drive two hours to the mountain to ski the same run all day long, watching the conditions change underneath me.
When I stumbled onto aerial silks and dance trapeze in my early thirties, it felt like coming home. The curiosity that turned me onto tennis, dance, and skiing is the same curiosity that drew me to circus. So I traveled far and wide to seek out teachers. I investigated techniques outside of aerial that unlocked doors to so many skills. I read. I studied. I read some more. I took every performance opportunity that came my way. There weren't many, so I began creating my own opportunities. I created performance companies that eventually got residencies and those blessings. And  then just like that I went bankrupt self-financing the opportunities I was so busy creating. So I started over.
I founded Circus Mobility to cultivate the feminist AF aerial community that would have blown my mind and the doors to opportunity wide open at the beginning of my journey. When I could not find the technical and creative mentorship that I craved inside of my local studios, I was privileged to be able to travel to find it.  Now I am committed to sharing the wisdom of the many great women who informed my personal movement practice and helping others find their aerial home.
""It has been an honor and privilege to work with you. I know I sound like a broken record, but I'm just so grateful. . . . It's never just about one thing, this is a whole ass perspective shift experience."
Brit Crumpton
"I love the brave feminist space that . . . Circus Mobility is and represents. I also love that Jessica makes herself so available for direct communication. I find dealing directly with the coach behind the program is so important. I feel cared for as an individual rather than part of a business machine!"
Jess Allen
"BUT I TAKE CLASSES, ISN'T THAT ENOUGH?" 
Maybe. Or maybe you are searching for more than your local studio can can provide. 
In The Parish, we get curious about the details and geek out about possibilities.
We place priority on sensation and awareness, knowing that we don't want to be strangers inside our own bodies.
We notice how our practices have a ripple effect through our muggle lives and our circus, pole, or aerial dance communities.
We cater to the artist who only performs for their saluki in the backyard as much the one with the big contract.
We foster a brave, inclusive virtual space that advocates for and amplifies diverse and neurospicy voices. 
Do I need access to an apparatus?
I am a former Parishioner. How has The Parish changed?
What is The Parish exactly? What can I compare it to?
When are the live sessions?
What if I cannot make the live sessions?
Who coaches in The Parish?
What is Circus Mobility's mission?
Is this only for coaches?